When your transport seems impossible, our job is just getting started.
MULLER
Dordrecht
We are Muller Dordrecht, one of the oldest and most accomplished maritime service providers in Europe. With our own fleet and well-trained crew, we offer a wide variety of services in different market sectors.
Muller Dordrecht is a global maritime service provider for towage, heavy transportation & lifting.
FLEET
We deliver every job at its destination with our powerful seagoing-tugs, maneuverable harbor-tugs, and inland push-boats. Muller owns a width variety of auxiliary equipment to accommodate our state of the art fleet for all your most difficult jobs.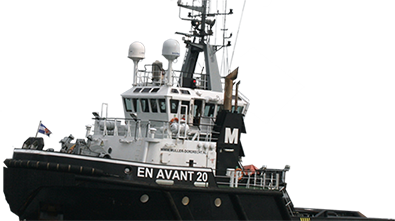 ENGINEERING
We ensure to exceed expectations while limiting project costs. With decades of experience, Muller Dordrecht determines the safe loading capabilities of marine vessels by providing comprehensive solutions. Professional software combined with highly skilled and motivated engineering staff makes every operation safe.
Case studies
The huge, the extraordinary and the complex. That's what we move for you. Muller has the expertise and equipment for safe and reliable marine transportation and towage services. We provide solutions or a turnkey operation that fits your unique and challenging needs and wishes.

MULLER Dordrecht is one of the oldest most accomplished maritime service providers in Europe. For more than 100 years, we have been operating our own fleet and equipment, combined with the highly dedicated staff, exceptionally skilled and well-trained crew, serving the needs of the ever highly demanding maritime industry.
Privacy statements & conditions