Loadtesting up to 5500 ton.
Safe and Efficient Crane Loadtesting by our testlift barges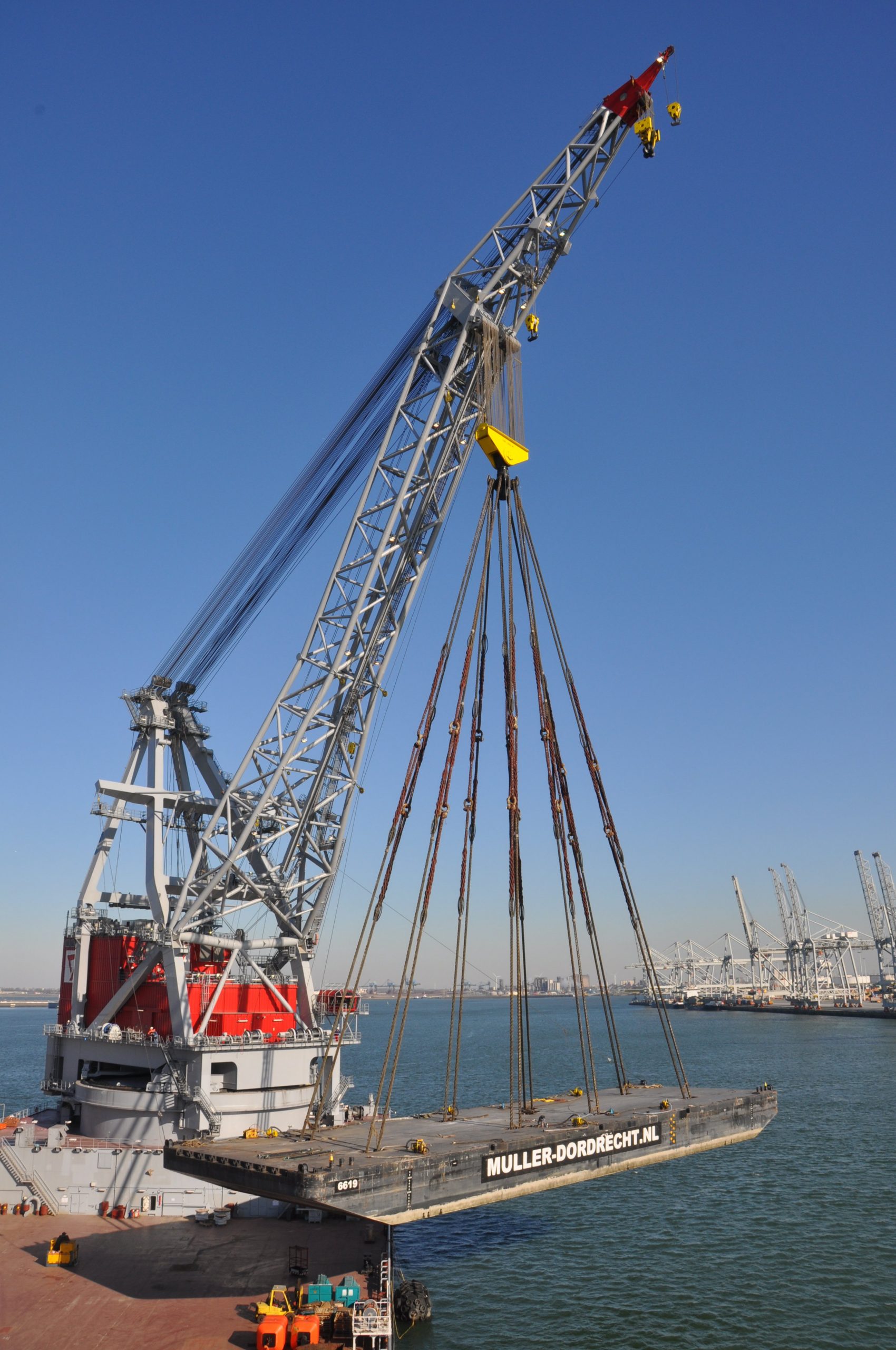 The large and giant offshore cranes require regular testing to keep them in line with the many safety regulations that apply in our industry. Muller offers practical, efficient testing solutions with high flexibility by our testlift barges. You are not obliged to come to us, we will mobilize our loadtest pontoons to you, every port you are.
In that way the maintenance and certification program can continue in efficient way an d the loadtest can be done at the time most convenient for you.
Our testload pontoons come with a package of services, tailored to your needs. Together with our engineering department, we plan ahead the job. Reviewing and supply of lifting arrangements, engineering of ballast plans and calculations and verification of the right testload on location.
We supply also various sizes of auxiliaries, such as pumps, rigging and tools to make the testload complete.
Our experienced staff ensures optimal preparation off-site, not interfering with your operations, so we can test quickly and prevent unnecessary downtime for your cranes. All our testing fully complies with the relevant written procedures, safety standards and preliminary risk analyses.
Our people make the difference
Hands-on approach for tailor-made solutions
Our service doesn't stop by the standard testlift job. When a client approached us for a unseen offshore triallift by using two giant offshore cranevessels, we embraced the challenge before we've been told the details. To work out a challenging testlift like that where we can use all our know-how from the past loadtests as well as our hands-on project based approach, that's where our added value comes to place.
Our test barges arrive pre-rigged (as per need) and ready for testing at the location of your choice. Our base in Dordrecht & Rotterdam ensure short connections, but we are free to help you out in any other (sea-)port.
Our testload pontoons have endorsed classification by Lloyd's Register and/or Bureau Veritas. The lightweight of the testbarge is verified and checked by class. During the testlift program, the lifted weight is verified by our class approved hydrostatic engineering software (GHS) and checked locally by our on-site naval- & ballast engineers.